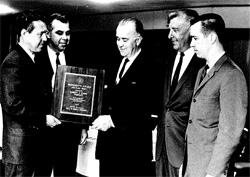 In 1955, Robert J. Young, Sr. and four employees opened the doors of his new Ditto duplicating dealership. Twelve successful years later, the Robert J. Young Company became a photocopier dealer. In 1977, the company added the Ricoh, Canon, HP, Muratec and Océ product lines to its fleet.
Robert J. Young Sr. retired in 1986 after selling controlling interest in the company to John T. Crunk, who had started with the company in 1958. In 1996, Mr. Crunk became Chairman of the Board and his son, John T. Crunk Jr. became President and Chief Executive Officer, thus continuing the tradition of the company being a family owned and operated business.
In 1999 the Robert J. Young Company condensed their name to the RJ Young Company, the name now recognized as the largest, best quality office equipment dealer in the Southeast. The RJ Young Company stands apart from the competition by backing every product and service we offer with our "We Make It Right" 100% guarantee.
In the last decade, RJ Young has continued to grow; acquiring locations in Chattanooga, Mississippi, Huntsville, Alabama and Memphis. The RJ Young Company is now the fifth largest independent office equipment dealer in the country, operating in five states throughout the Southeast, servicing a total of 18 locations and employing more than 350 people.

RJ Young has also expanded their business lines, including an onsite copy center referred to as Digital Production Services, an off-site copy center program, referred to as Document Management Services.
In 2008, RJ Young saw an opportunity to expand their service through investing in a service fleet. The result is more than 100 black Chevy HHR's wrapped in Young's logo and distributed throughout all their locations in the Southeast.

Their accomplishments include being selected as one of the 50 Best Office Equipment Dealers in the United States by the highly reputable industry magazine, Office Dealer. Their service department has also been an award winner in almost every major category offered in the industry, including receiving a Perfect Image Award for, "Outstanding Service Program."

RJ Young has been a strong and stable decision for customers for over 56 years. They continue to build on their strengths and evolve as technology develops to serve their customers changing needs.